s. IntCh. Mucius Fiona + Pivo Deabei, BH
Born: 20.02.2021
6 males, 2 females
Mating: 20. a 21.12.2020
| | | | | | | | | | | | |
| --- | --- | --- | --- | --- | --- | --- | --- | --- | --- | --- | --- |
| Name | Sex | Variety | Hips | Elbows | DNA | Other Health ex. | Teeth/bite | Testicles | Export | Exams | Titles |
| Christopher | P | GR | | | | | scissor bite | OK | Poland | | |
| Cherokee | P | GR | | | | | scissor bite | OK | Finland | | |
| Chevvy | P | GR | | | | | scissor bite | OK | USA | | |
| Charis | P | GR | | | | | scissor bite | OK | Poland | | |
| Chad | P | GR | | | | | scissor bite | OK | Italy | | |
| Chilly | P | GR | | | | | scissor bite | OK | Poland | | |
| Cher | F | GR | | | | | scissor bite | - | Germany | | |
| Chelsea | F | GR | | | | | scissor bite | - | - | | |
---
Christopher, Cherokee, Chevvy, Charis, Chad, Chilly, Cher, Chelsea
---
CHRISTOPHER - male, yellow

Rodzeń Monika, Brzeźnica (Poland)
---
CHEROKEE - male, turquoise

Hölsö Mari, Siuntio (Finland)
---
CHEVVY - male, orange

Roberts Gabriel, New Hampshire (USA)
---
CHARIS - male, white

Michalski Marek, Boleslawiec (Poland)
---
CHAD - male, green

Mirko Yadira, Loreto (Italy)
---
CHILLY - male, red

Hreczycho Marta, Wroclaw (Poland)
---
CHER - female, pink

Anette Thisse (Germany)
---
---
Together:
8 weeks old:
6 weeks old: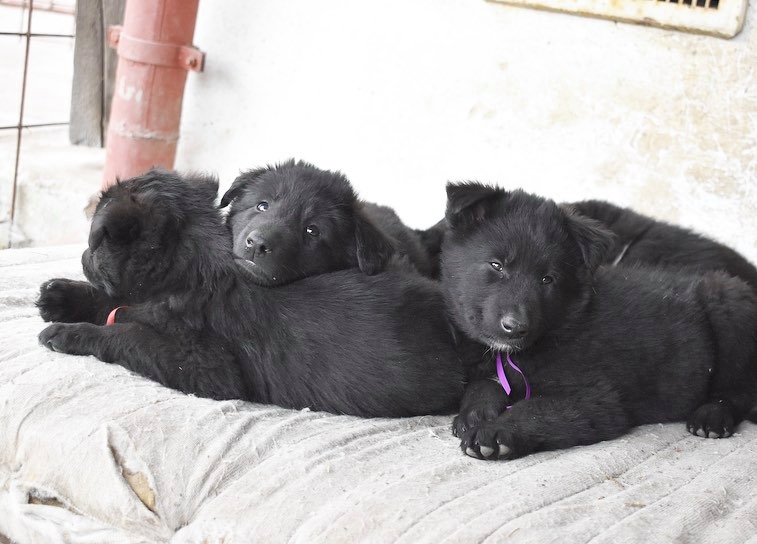 4 týdny: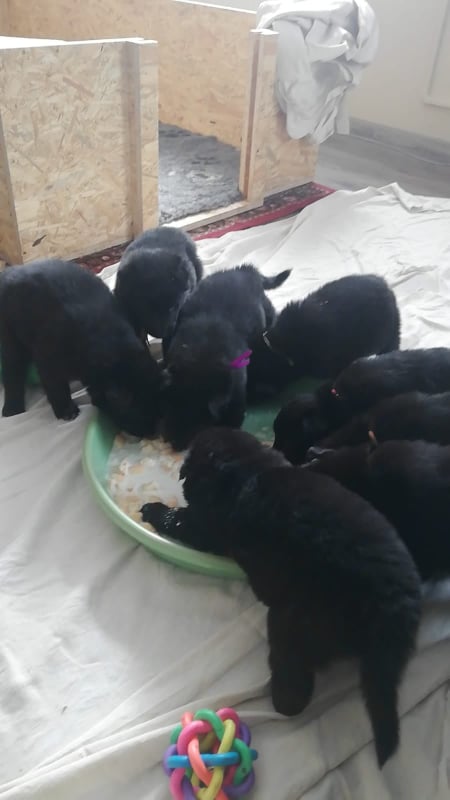 3 weeks old:
5 das old:
first moments:
For the last litter of Mucius Fiona I looked for an absolutely unrelated healthy male with great working drive. I know Pivo Deabei personally, I also saw his and his brothers' Pram's offsprings, who were given lots of energy and drive, self-confidence and serenity and at the same time they preserved the typical appearance, great coats, in many aspects stronger frame, better angulation, excellent stop. Pivo is an open friendly male, who trains for mondioring with his owner Irena Pešková. All his littermates (10 dogs) are x-rayed and they all have HD A, ED 0/0, eight of them accomplished BH exam, one male has a rescue license, three littermates have IGP3 and they compete at the highest competitions. The whole litter has full dentition and scissor bite.
Fiona is a healthy, calm show-line bitch, very beautiful in appearance, imported from Hungary, mother of three succesfull litters.
I believe that this litter will be beneficial to groenendael breeding not only in the Czech Republic.

Pivo Deabei - HD A, ED 0/0, DNA profile, SDCA 1 N/N, SDCA 2 N/N, SA neg, CJM C/N, BH exam
Mucius Fiona - HD A, ED 0/0, DNA profile, OCD neg., CJM N/N, DOV free 2020, exams: CANT, ZZO, ZVOP, CSAU, TAN.
- Junior champion CZ, champion of PL, SK, CZ, ČMKU, Club champion KCHBO, InterChampion C.I.E., Grand champion CZ
- PT: 81, selection CZ 2020
I am thankfull to CMC malinois club for support with this planned litter.